Sub-Zero
Refrigerator Repair

Service
Sub Zero
Refrigerator Repair Service

for your Overall Convenience
Does your sub zero refrigerator have issues keeping its cool? When it doesn't turn on, makes weird sound that you have never heard before, leaks or has temperature problems, you need a reputable sub zero refrigerator repair service from a trusted professional like the seattlesubzerorepair.com.
It can really be annoying and frustrating to know that one of your major appliances at home is damaged or not working properly. When your sub zero refrigerator gives you trouble, this can really affect your daily life. Some people who have technical knowledge may try to fix the problem, but often makes mistake, so the problem gets worse.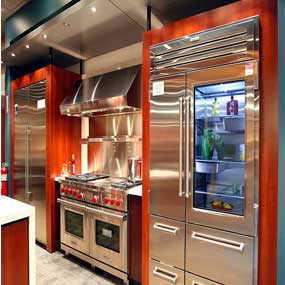 When do you Need a
Professional Sub Zero Refrigerator Repair

Service?
There are many things that can actually go wrong with your sub-zero refrigerator. Many of the problems that occur over time are common but there are rare issues and require a professional repair service to get everything back up and start running again.
When you notice that you have problem with your sub-zero refrigerator, never attempt to conduct the repair work on your own. Even if you think you know how to fix the problem, always seek professional help from your sub-zero repair specialist in Seattle. They have the right tools and the technical know-how to resolve any damage or issue you have with your appliance. Sometimes, doing the repair job on your own can actually make more damage to your refrigerator.
Seattle Sub Zero Repair – The
Best Appliance Repair Authority

in Seattle
Seattle Sub Zero Repair is your
Trusted Repair Service Company

in the Industry
For this reason, it is crucial to take the expert assistance of Seattle Sub Zero Repair to solve your problem. The speedy and high quality service delivered by the company will give you guarantee that you can get your refrigerator running perfectly again in no time. They are equipped with qualified and trained technicians to handle the job. Their dependable sub-zero refrigerator repair service team has made them a trusted appliance repair firm in the Seattle area.
When you invite the company's repair service technicians into your home for a professional sub zero refrigerator repair service, you'll not only work with factory trained technicians but also experts who are skilled and knowledgeable to deliver you a personalized service. They will treat your property and home with great respect. They are very diligent in protecting your appliance and your valuable investments. Many customers are actually looking for Seattle Sub Zero Repair as their preferred repair service provider in the industry.
Sub-zero
Refrigerator Parts
The company uses only genuine factory produced parts of sub-zero refrigerators. They are equipped with a fridge repair service truck to deliver the highest levels of service for each of their clients throughout the industry. They are pleased to carry a large inventory of quality sub-zero service parts to make sure that whatever part/s they replace to your refrigerator are genuine.
Seattle Sub Zero Repair is the right expert to handle your problem with your refrigerator. They are employed with knowledgeable and experienced sub zero refrigerator repair service specialists who are dedicated to providing higher quality services to match your needs.